The Women of Wellube: Meet Sreeja Lakshmi, Sales Support Coordinator
This International Women's Day in line with the theme of this year 'Break The Bias', we will be recognising and featuring the women at Wellube who are breaking stereotypes and paving their path in this industry.
This week, get to know Sreeja Lakshmi. She handles the role of Sales Support Coordinator at our UAE office. Her responsibilities include maintaining the enquiry files, preparing prequalification documents, updating our client database and preparing quotes by working with the relevant sales managers. She is also a key ERP user for her team.
We had a chat with her to get to know more about her experience, interests and her advice to young women.
How many years have you been in the industry?
14 years
How many years have you been with Unique Group?
4.5 years
What made you choose this industry?
I chose this industry because I wanted to gain exposure and knowledge about the sales side of the business as in my previous role, I was working in the engineering design side.
What do you enjoy most about your job?
I like the work culture at Wellube and it's a pleasure to work with such a great team.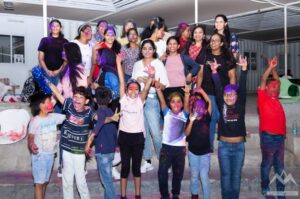 Sreeja with the team and their families during the Holi celebrations
Tell us about a key achievement in your professional career?
One of my key achievements has been when I upskilled and single-handedly completed the estimation for a few chilled waterline projects which were awarded to us. It was a great feeling to win the job and have our team successfully execute the job for the client.
What are your other interests outside of your job?
Meeting friends, baking and pencil sketching.
If you had to share some words of encouragement for women entering this industry as sales support coordinator today, what would they be?
Grab the opportunity and make a positive impact.