Split Sleeves Repair Clamps – Everything You Need to Know
Have you ever wondered what happens when a gas line or a water pipe leaks? To put it mildly, it can be messy and create risky situations. But do not worry! Split sleeve repair clamps are a clever fix that comes to the rescue!
Here, we will go in-depth into how they function and why they are crucial for resolving unforeseen pipeline issues. Therefore, let's roll up our sleeves and prepare to delve into the world of split-sleeve repair clamps.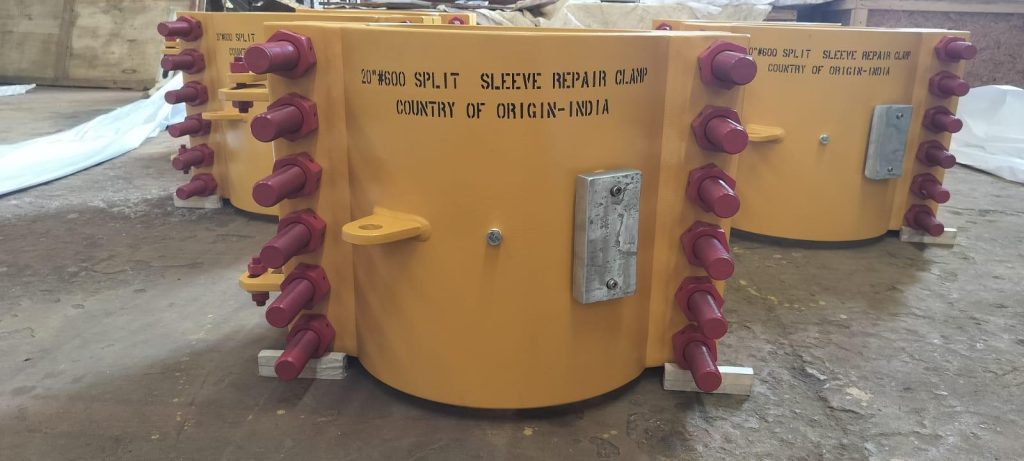 How Do Split Sleeve Repair Clamps Work?
Consider a garden hose that has a hole in it. What steps would you take to stop the water from sprinkling everywhere? You could try to wrap some tape around it. Consider the case of a much larger pipe carrying water, oil, steam, or gas that develops a crack or a hole. In this circumstance, these split-sleeve clamps will be more helpful.
Industrial pipe leaks must be avoided, and if leaks occur, technicians should resolve them as soon as possible. Split sleeve repair clamps are ingenious tools made to seal and fix broken pipes quickly and efficiently.
When pipes are in trouble, these clamps act as superheroes to save the day. They are typically made of sturdy materials, such as stainless steel, making them long-lasting and corrosion resistant. They are available in various sizes to accommodate several pipe diameters, ensuring a tight and stable fit.
How Do Sleeve Split Repair Clamps Operate?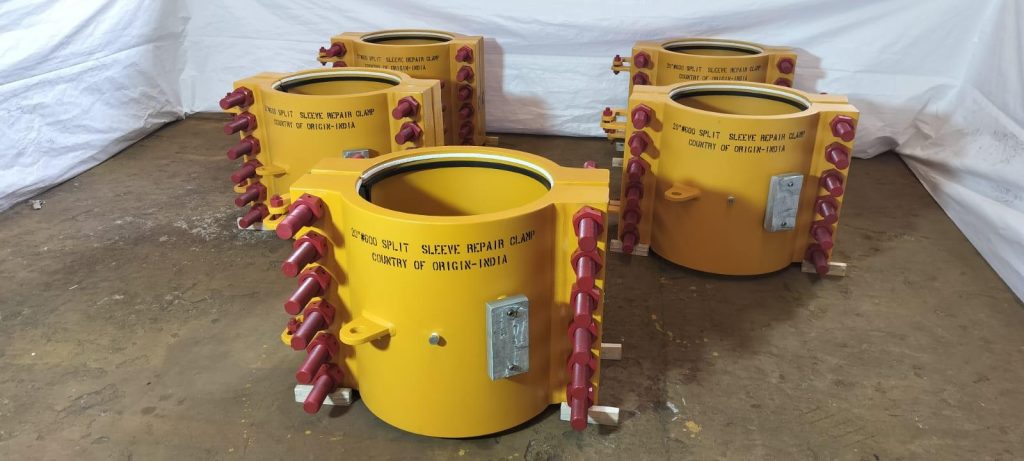 Now we are aware of what they are capable of. Let's get to know more about split sleeve repair clamps. How do they perform?
Encapsulation: Cleaning and preparing the damaged area are the first things to do when a pipe develops a hole or crack. This repair clamp is then positioned over the damaged section, encapsulating it entirely.
Compression: After the encapsulation, technicians tighten the clamp with bolts or screws. This compression makes a solid seal that stops leaks and additional damage. Similar to zipping up a jacket to stay warm, the better the seal, the more effective it is!
Reinforcement: In addition to sealing the affected area, these repair clamps give the weaker part of the pipe reinforcement. This extra support helps prevent future issues, ensuring the pipe stays in good condition for a long period of time.
Why Are Using Split Sleeves Repair Clamps So Important?
You might be thinking why it is essential to know more about the repair clamps. Well, these are necessary for several reasons, including the following:
Quick Repairs: When a pipe emergency arises, you should fix it perfectly and at the earliest. Otherwise, it may create unnecessary issues. You can install these clamps easily, minimizing downtime and lowering the possibility of property damage or service interruptions.
Cost-Effective: It can be expensive and time-consuming to replace an entire section of a pipe. Repair clamps provide a less expensive option, saving you money and time.
Flexibility: You can use these clamps in different pipes, including pipelines for gas, oil, and water.
Longevity: These clamps can offer durable protection after installation, guaranteeing the repaired section of the pipe remains robust and leak-free.
When Should Split Sleeves Repair Clamps Be Used?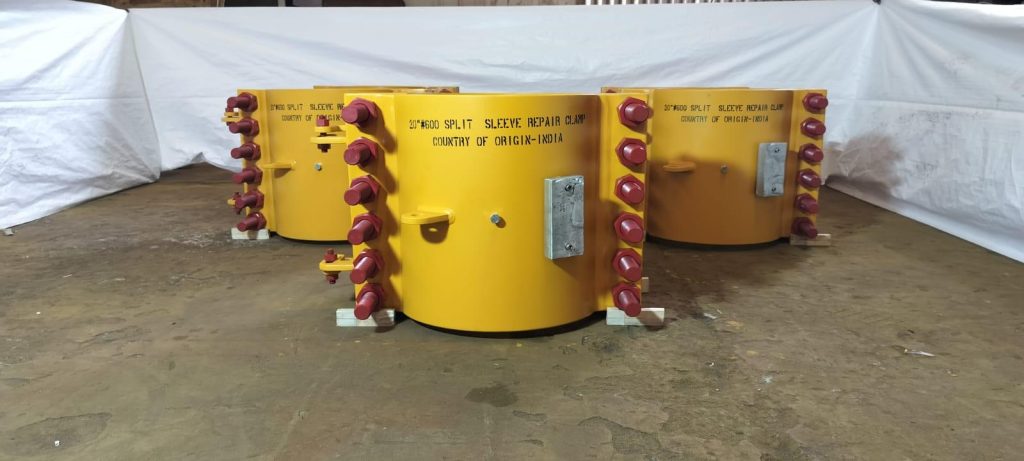 These repair clamps are very helpful in many situations whether onshore or offshore projects. However, they are not always the best solution for every pipeline issue. The following are some scenarios in which these clamps excel:
Emergency Leaks: When you have a sudden pipe leak or rupture, these repair clamps can be a lifesaver until a permanent fix can be made.
Aging Pipes: Pipelines may develop cracks and corrosion as they get older. Older pipes can live longer with repair clamps.
Temporary Solutions: You can occasionally use repair clamps as a temporary solution until you can schedule more substantial repairs or replacements.
On the other hand, it is important to keep in mind that split sleeve clamps might not be appropriate in every situation. For instance, you cannot fix severely deteriorated or damaged pipes with these repair clamps. In this case, you need more professional repairs.
Maintaining Split Sleeves Repair Clamps
Split sleeve clamps require proper maintenance just like any other tool to keep working properly. Here are some suggestions for better maintenance:
Regular Inspections: Check the clamps frequently to find signs of deterioration, corrosion, or slipping. Early problem detection can stop leaks and additional damage.
Cleaning: To prevent corrosion, keep the clamps clean.
The Role of Technical Experts
Technical experts with extensive knowledge can provide unique solutions for pipeline problems. Their high-quality materials and knowledge guarantee reliable and long-lasting repairs. They place a high priority on safety and adhere strictly to rules and protocols. Their effectiveness in an emergency reduces downtime and additional damage.
In addition to immediate fixes, they emphasize problem prevention. Many companies offer ongoing maintenance, which reduces costs by fixing on or before the issues arise. Technical specialists play a significant role in industries' trusted partners in pipeline damages because they are necessary for effective, safe, and sustainable repair solutions.
Conclusion
Split sleeve repair clamps are like unknown gems for pipeline leak issues. When pipes are in trouble with water, oil, or gas leaks, they step in to provide a prompt, affordable, and dependable solution. So, the next time you experience a leak emergency, remember these trusty split sleeves repair clamps. They might end up saving both money and the day!
Are you now confident enough to deal with your pipeline leaks and damage with the experts in the field? If so, Wellube is the only place to go! Their knowledgeable engineers and technicians can offer specialized solutions for all of your needs. Whether you need a short-term fix or a long-term strategy, with their exceptional solutions, tools, and products, they can assist you well.
With high-quality products, expertise in the field, and dedication to sustainability and safety, they can be your reliable partner in all stages.  Instead of waiting for the next emergency, get in touch with Wellube right away, and together, let's keep your pipelines operating efficiently for years to come.