The Women of Wellube: Meet Mubashirin Arabhavi, Senior Engineer
This International Women's Day in line with the theme of this year's 'Break The Bias', we will be recognising and featuring the women at Wellube who are breaking stereotypes and paving their path in this industry.
This week, get to know Mubashirin Arabhavi. She handles the role of estimation and sales Engineer at our India office.
We had a chat with her to get to know more about her experience, interests and her advice to young women.
How many years have you been in the industry?
8 years
How many years have you been with Unique Group?
1.2 years
What made you choose this industry?
I chose this industry because I get to play a vital role here.
What do you enjoy most about your sales process management job?
I like that I can work without any pressure. This is possible because of the excellent support from my manager.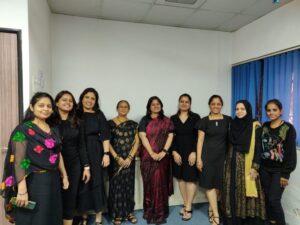 Mubashirin with her colleagues
What do you think is important for the success of a team?
To always have the mindset of the team – it's we and not me.
What are your other interests outside of your job?
Writing and craft work
If you had to share some words of encouragement for women entering this industry today, what would they be?
To be bold and straightforward towards your work and environment.