Getting to Know Walter And His Two Decade Long Journey With Wellube
How long have you been with Wellube? And how many years in the industry?
I'm Walter, I have been with Wellube since September 2000, it is going to be 21 years, but it all seems like yesterday! All in all, I have been in the same industry for 27 long years.
What is your career background and your key area of expertise?
I started working in my teen and have worn various hats through my long career spanning more than three decades. As a youngster, I was always interested in working in a technical domain and began my career in the automobile and electromechanical industry.
My first venture to the Middle East was in 1992 when I worked in Oman for 2 years. After that, in 1994, I moved to Abu Dhabi, where I met and trained under my mentor, John Allison. After my 6-year stint in Abu Dhabi, I followed John to his new venture at Wellube and the rest as they say is history. At Wellube I have worked in various roles including Operations before moving on to Sales.
Walter Fernandes at Wellube's exhibition stand during ADIPEC
What do you enjoy the most about your job at Wellube?
Walter said that he enjoyed the positive work culture and team spirit that we all share at Wellube.
The overall work environment at Wellube is excellent, both the management and colleagues are always supportive of each other.
As with every newbie coming to work in the Middle East, I never planned to stay here for so long. But before you know it, the years have flown by, my daughter, Delilah is all grown up and I guess the only reason I have stayed with Wellube for so long is that I have built a strong bond with the company and colleagues, and I come joyfully to work each day.
How has Wellube evolved from the time you joined until now? 
When I joined Wellube in September 2000, it was primarily offering Valve Lubrication & Sealing services. Gradually, we added other on-site engineering services including On-Line Leak Sealing, On-Site Machining, Hot Tapping & Line Stopping, Pipe Freezing, etc., and within a short period, we became a leading one-stop-shop providing bespoke solutions to the various oil & gas, utility and other industries in the UAE.
Over the years, we also established bases in Qatar and India to serve the ever-growing demand in these regions. Additionally, we have also carried out many complex projects around the world.
How would you describe a typical day for you at Wellube? 
My typical day at Wellube starts with reviewing and responding to incoming emails, planning my tasks for the day, attending client/sales meetings, preparing bids and quotes for the client along with follow-up and providing support to the sales team.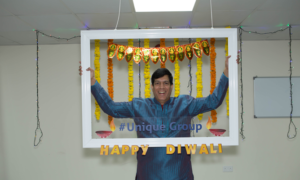 Walter at a photo-booth during the Diwali celebrations organised at the office.
Any key highlights to date of working with the company?
There are too many highlights to mention here, but one of the key highlights in the early days of start-up was when we were contracted to machine seven 10" diameter holes on the topmost sphere located on the highest point of Burj Khalifa, the tallest tower in the world, to allow for the installation of lights.
A year or so later, I happened to be switching television channels at home and came across a National Geographic documentary on the building of the Burj Khalifa and instinctively I had a feeling I should watch the whole show, and lo and behold, there was a segment where Team Wellube was shown performing the in-situ machining work, which is a great achievement and a cherished memory.
What do you think makes Wellube different than its competitors?
I believe that in any organization, it is the employees that make the difference.
I have always had the pleasure of working with colleagues who work as a team and adhere to the core values of Wellube, customer focus is one of our key values – we deliver quality services as promised and in turn, our clients trust us with their complex and challenging projects.
We have had numerous instances, where customers awarded us the project against stiff competition because we have a stellar track record and clients were confident that we would be able to meet their expectations on time and budget.
What does your work/life balance look like?
I am an early riser, so I arrive at least one hour early to the office and most days work involves handling of the planned and unplanned tasks for the day.
After work, I spend time reading, listening to podcasts and watching documentaries on philosophical subjects including metaphysics. I am also a foodie at heart, but my wife, Michelle rules the kitchen, so I don't get to cook though I enjoy the tasty food she cooks.
We are blessed with picturesque and well-maintained public parks and beaches in the UAE, so I also enjoy going for long early morning walks along the beautiful Sharjah Corniche and beaches which are close to my home.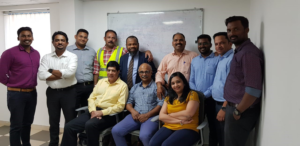 Walter with few of his colleagues.