Getting to know Daniel and his journey with Wellube in Qatar
In this blog, we get to know more about Daniel and his journey who is working with Wellube as Assistant Manager Operations in Qatar.
How long have you been with Wellube? And how many years in the industry?
It's been 3 years and 4 months since I started my career with Wellube. I have been in the oil and gas industry for over 34 years, working predominantly in Qatar and Kuwait.
What is your career background and your key area of expertise?
My key area of expertise lies in on-line leak sealing, pipe freezing, on-site machining, hot tapping and Uni-Test. I started my career as an On-line Leak Sealing Technician, then moved up the ladder to become a Mechanical Services Supervisor, Division Manager and now I lead the operations team.
Daniel Fernandes during a site visit
What do you enjoy the most about your job at Wellube?
I enjoy the responsibility that has been entrusted to me. Each day we have several client operational challenges presented to us for which we engineer solutions together as a team.
The people at Wellube and the work environment here are two main reasons why I like working here, the team is very knowledgeable and supportive. I have also evolved by being a part of this team.
How has Wellube evolved from the time you joined until now? 
Since the time I joined Wellube Qatar – the team, the number of services we offer and the clients we serve has all increased. We now provide the entire portfolio of Flow Management Intervention & Integrity, Valve Reliability Management and On-site Precision Machining here. It's also nice to see that we have multiple new clients, who have become repeat customers after experiencing our service delivery. The industries we cater to have also diversified and now we work across oil and gas, construction, and power industries.
Overall, it has been a good growth curve for Wellube in Qatar.
How would you describe a typical day for you at Wellube? 
My typical day at Wellube begins with toolbox talks, after which I meet the technicians and engineers who will be mobilising to the site. During these meetings we discuss the project and QHSE aspects to equip them for the site work. Then I coordinate with clients regarding the projects, after which I meet the engineers to support them in the sales bidding process.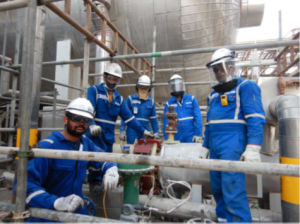 Daniel and team at the project site.
Any key highlights to date of working with the company?
Engineering solutions for complex challenges is an interesting part of my role, when these solutions are appreciated by the client it makes my day even better. Here are three key highlights from this year:
We performed on-line leak sealing for a valve enclosure hydrocarbon leak where the valve size was 2 inches and the pressure was 250 bars and temperature 300 degree C, here there were space constraints however we visited the site and managed to place the whole enclosure inside a clamp and filled the void with leak sealing compound.
Earlier this year, we were also involved in a hot tapping project (Qty 2 off 10'' X 2.5'') which had to be implemented without any interruption to the water supply and there were restrictions in the usage of Hot Tap equipment and  we couldn't use Air Compressor/HPU. We planned the execution of the project and completed it before the scheduled time frame.
One of the other highlights is a pipe freezing job, where we did qty 2 off 16" Single Position Pipe Freezing for a prestigious client on their chilled water lines operating at a line temperature between 5.3 degree C to 10.3 degree C and 5 bar pressure. This was also a critical project as the weather conditions were not suitable. Despite the confined space where we had to perform the job, we managed to execute it well within the deadline.
I visited the project site to support and provide technical advice to the team for all these projects. Thus, successful completions of these jobs are some of the key highlights in my career this year.
What advice would you give to any young engineer who has newly joined the company? 
My advice to young engineers is to utilise this opportunity to work with experienced and knowledgeable technical experts at Wellube. And, to get involved at the project site so they can get hands-on exposure to the different product lines and services.
What do you think makes Wellube different than its competitors?
There are multiple factors which makes Wellube stand out among its competitors, the first one is the experienced and professional team we have. Our technical experts and site technicians have over 20 years of experience in providing our services, this helps us solve client challenges and engineer efficient solutions for them.
Next is the never-say-die attitude the teams have; this motivates and pushes each one of us to deliver beyond client expectations. Understanding the criticality of the job, the teams are also always available round the clock for our ongoing contracts.
What does your work/life balance look like?
My work life balance involves talking to my family who are back in India. I also meet friends and go out to visit the city during the weekends.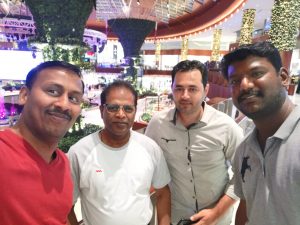 Daniel with few of his colleagues.