32" Line Stop With Bypass For Butterfly Valve Installation On A Gas Flare Line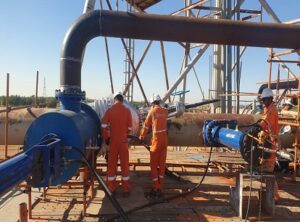 Client
Leading Petrochemical Company
Country
Sudan
Year
2020
Service Details
Wellube's Hot tapping and Line stopping service is a cost-effective way of enabling repairs, maintenance, modifications, or reconfiguration work on existing piping systems – on either a planned or emergency basis.

Our solution prevents unwanted shutdowns and keeps critical piping and pipeline systems online during tie-ins, relocations, repairs, retrofits, and routine maintenance.

Get in touch with us at enquiries@wellube.com
Summary of the Project:
Wellube completed a double position line stop operation on a 32" gas flare line to install a butterfly valve and tie-in valve in the existing flare line for a petrochemical client in Sudan. This project also holds the remarkable achievement of being the first of its kind in North Sudan.

Client Requirement
The client needed to perform maintenance in the header pipe of the client's refinery flare header, which was the only flaring line for the two refineries in the facility. To enable this, a new branch had to be introduced and a butterfly valve as well as tie-in valve had to be installed on the new flaring line. The client reached out to Wellube to support them as hot tapping and line stopping was needed to execute their requirement.
Challenges faced
As a result of the travel restrictions imposed during COVID-19, travel for site survey was not possible hence we worked with the client to gather the required details for engineering the fittings.
Executing the project within the schedule was also challenging since we had to ensure there was no delay due to the changing pandemic restrictions.
Unique Solution delivered
As part of our complete turnkey solution, we provided fit-up of the split tees, in-service welding, hot tap & line stop including secondary bag isolation at two locations and pipe cutting of the 32" to install the Butterfly valve.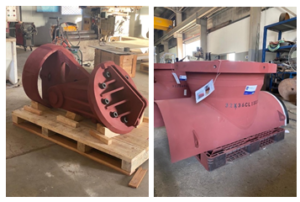 Wellube performed line stopping on the existing flare line with a bypass of 16" and welding of WNRF flanges for installation of the new butterfly valve without interruption to the flow in the line.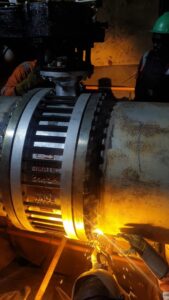 The size of the pipeline being an odd size 32", we provided the client the optimum solution by engineering the requirements based on the site conditions and our equipment, which enabled us to complete the project within the client schedule.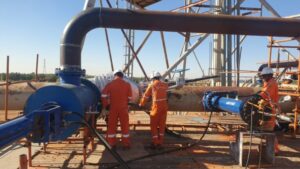 The client was completely satisfied with our service and appreciated Wellube's technical excellence and professionalism.
Benefits delivered
As the project has been successfully completed, the client can now perform maintenance of their completely dependent only available flare header connected to the two refineries without complete shutdown of the refinery and production loss.
No interruption to production during the project execution
Completely HSEQ compliant
Successful completion of the project within the client deadlines.