Life at Wellube: Meet Aldrin Francis, Service Engineer
In this blog, we get to know more about
Aldrin Francis
who handles the role of Service Engineer in Qatar.
How long have you been with Wellube? And How many years in the industry?
I have been working with Wellube for the past 10 years, since 2012. In the oil and gas industry, I have been working for over two decades.
Tell us about your career background and your key area of expertise.
In 2003, I started my career as a leak sealing technician in India. Then I moved to Kuwait in 2006 and worked there for 7 years in the same role. Following this, I joined Wellube's Qatar office in 2012. At Wellube, I have expanded my service knowledge to include safety relief valve testing, pipe wrapping, valve lubrication and pipe freezing.
What do you enjoy the most about your job at Wellube?
There are multiple things that make my job here enjoyable. I like that I have the opportunity to learn and upgrade my skills, this is made possible by the encouragement I receive from my manager and colleagues. There is also trust placed in our workmanship and we are given new responsibilities to step up and perform new services. Overall the work environment and support I receive from the management and my team is a major highlight for me.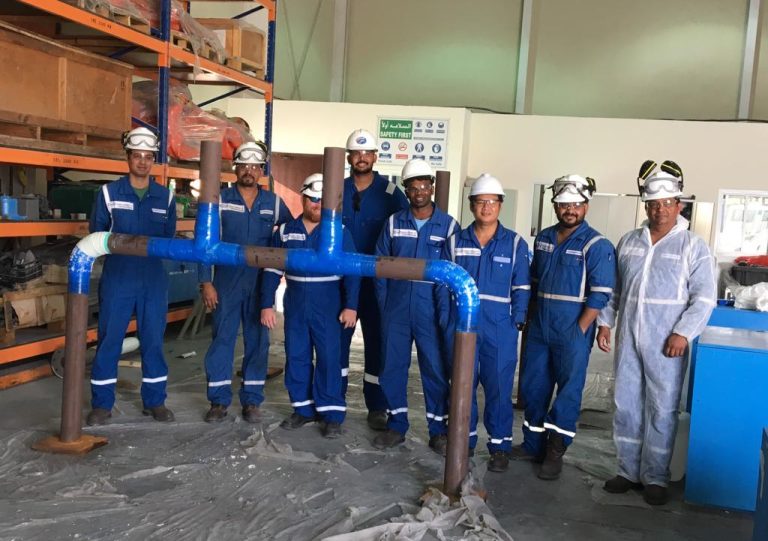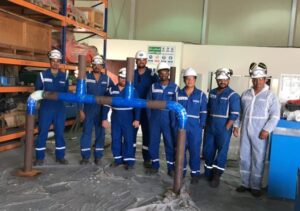 Aldrin and his colleagues at the workshop.
How would you describe a typical day for you at Wellube?
My typical day starts by reporting to the office in the morning, after which I check with my Operations Manager or Project Engineer whether I have any urgent scheduled jobs at the client site. If there is a planned job, then I will be informed earlier, and based on the job, I will prepare the tool kit and mobilize it to the site. If there are no scheduled jobs, then I will review the upcoming jobs and check the clamps which are being fabricated.
Any key highlights to date of working with the company?
I have several key highlights with Wellube. A few of the recent ones are:
Sealing a 2m exchanger flange leak for a leading client. The client wanted us to design and manufacture a clamp that does not change their existing equipment. We successfully completed the project and were appreciated by the client and recognized for it.
Another one is a 32" x 2500# bonnet plug leak sealing which was completed inside a confined space. This was done for an oil and gas client, it was a highly complex job that other companies could not take up. The client was pleased that we were able to solve the challenge for them.
Another key project was a 14" flange to elbow clamp which we completed. It was an H2S leak and we had to wear breathing apparatus to work at the site. The job was completed in two days.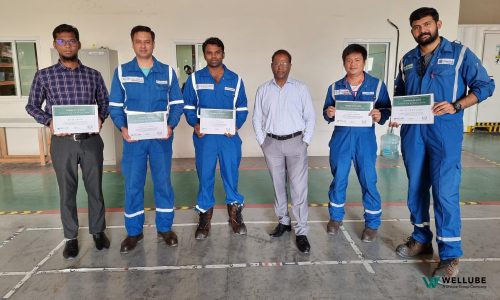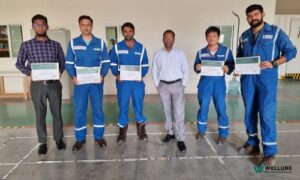 Aldrin and his colleagues with their appreciation certificates for a job well done.
How do you unwind after work?
After work, I relax in my room and catch up with my family, as they are based in India. During weekends, I find time to meet friends. I sometimes work during the weekends when there are urgent call-off projects.