Life at Wellube: Meet Niyas Salem, Design Engineer
In this blog, we get to know more about Niyas Salem who is working with Wellube as a Design Engineer in Qatar.
How long have you been with Wellube? And how many years in the industry?
It's been over 3 years, since I started my career in Wellube. I have been in the oil and gas industry for over 9 years.
What is your career background and the key areas of expertise?
I am a mechanical engineer with a post graduate diploma in oil and gas piping design. I began my career working as a Design Engineer with a renowned oil and gas EPC company in Qatar. Following that, I joined Wellube in 2018 as a Design Engineer to lead the engineering division in Qatar.
My key area of expertise lies in designing and executing cost-effective technical solutions for various pipeline repair and rehabilitation services such online leak sealing and hot tapping. I also have experience in vendor management and leading site technicians to complete projects in a timely manner.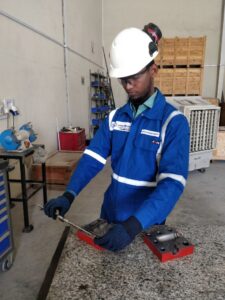 Niyas at work in the Wellube workshop
What do you enjoy the most about your job at Wellube?
I enjoy the freedom and flexibility of my work environment. Additionally, working with my supportive team to solve complex pipeline integrity issues makes each day a new experience.
How would you describe a typical day for you at Wellube?
My typical workday starts with responding to emails regarding customer enquiries associated with pipeline repair solutions, resolving technical queries, resource planning and scheduling, and engaging with customers. Then, I move to handle the engineering and design of the new online leak sealing projects.
Any key highlights to date of working with the company?
Engineering solutions for complex challenges is an interesting part of my role. Here are three key highlights from last year:
My team (Francis, Sumith, Deepak and Joenard) and I were appreciated by the client for successfully sealing a steam leak in a 2m exchanger flange operating at 5.5 bar pressure & temperature of 118°C. We were also recognised during the internal Spot Awards with certificates.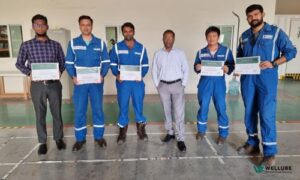 Niyas and the team pose for a photo with their certificates
Designing and engineering the 24" butterfly valve enclosure to arrest a critical sea water leak stop critical job.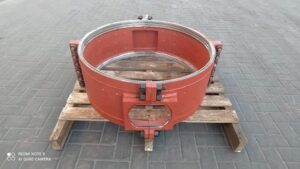 The 24″ butterfly valve enclosure
Working on the design and engineering of the 42'' ring clamp to arrest high pressure steam leak. This is one of the biggest clamps we have engineered, so working on this project is one of my prestigious achievements.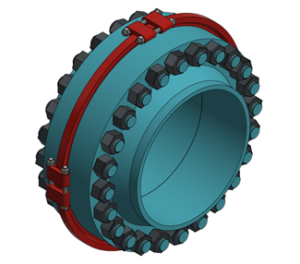 The 42″ ring clamp which was one of the largest clamps we have engineered in Qatar
What do you think makes Wellube different than its competitors?
The people in Wellube make the difference in comparison to our competitors, the team is very well experienced to provide the best solutions for the client's problems. As a trusted brand in the industry, Wellube has built a valuable relationship based on trust and reliability with the customers. Clients know that they can rely on Wellube to engineer the right solution for their complex challenges.
What does your work/life balance look like?
After work, I spend time with my family and engaging in my hobbies, Over the weekends, my family and I visit nearby parks and beaches. We also hang out with friends & relatives in Qatar.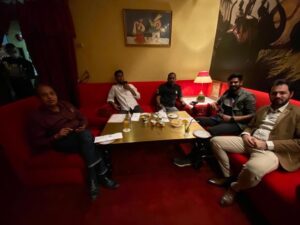 Niyas along with colleagues during the annual company get together