Steam Leak on an Exchanger Flange Sealed with a 6-part 2m Ring Clamp
The client approached us with an urgent request to arrest a steam leak in their heat exchanger flange which was operating at 5.5 bar pressure and temperature of 118°C. They wanted us to provide a solution that would avoid production loss and shutdown.
Fabrication and machining of the clamp was quite difficult as it was 2 meter in size and had a 'L' shaped design. Additionally, there were 6 parts to machine where the inline matching needed to be perfectly done.
The standard procedure for leak sealing after installation of a ring clamp is to perform caulking. However, this job was designed and engineered in a different way to avoid caulking and we completed it successfully.
Solution Engineered
Wellube team visited the site and assessed the situation, following which we recommended online leak sealing as the preferred solution to seal the leak.
Based on the site requirements, our design team engineered a 6 part 'L' shaped 2-meter ring clamp which was then manufactured according to ASME Sec VIII DIV 1. The clamp was then placed around then flange to seal the leak without caulking.
The entire project was completed well within the client deadlines and the client was pleased as there were no disruption to production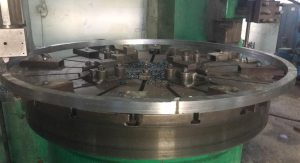 The machining of the clamp prior to installation
Benefits Delivered
Avoided shutdown ensuring production continuity
Quick and efficient solution
Project managed it from end to end for the client
Completely QHSE compliant
Successful completion of the project within the client deadlines.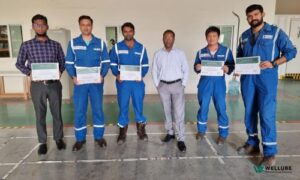 The team (Francis Aldrin, Sumith, Deepak Unni, Joenard and Niyas Salem) who successfully completed the project pose with their appreciation certificates