2" Line Stopping Completed with Barrel Split Tee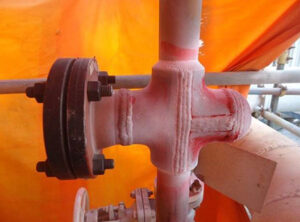 | | |
| --- | --- |
| Client | Leading Petrochemical Company |
| Country | Qatar |
| Service details | Wellube's hot tapping and line stopping service is a cost-effective way of enabling repairs, maintenance, modifications, or reconfiguration work on existing piping systems – on either a planned or emergency basis. Our solution prevents unwanted shutdowns and keeps critical piping and pipeline systems online during tie-ins, relocations, repairs, retrofits, and routine maintenance. To know more, get in touch with us at enquiries@wellube.com |
Project Summary
Line Stopping in Qatar
Wellube successfully performed 2" hot tap and line stopping in Qatar for an instrument line and nitrogen line to assist the client in repairing of the damaged line.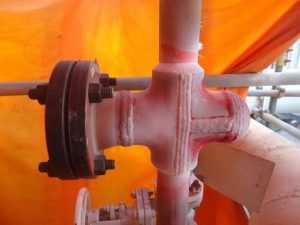 After NDT of the Barrel Split Tee before commencing the line stop activity
Client Requirement
The client wanted to repair the cracked portion of their pipeline and install a gate valve without interruption to two of their pipelines respectively.
Challenges Faced
The barrel split tee for the project had to be designed, manufactured, and supplied within the limited time schedule.
Welding and non-destructive testing (NDT) had to be performed on the pipeline, which was successfully completed following stringent QHSE measures.
Solution Engineered
Wellube Team executed the line stopple activity for the 2'' line with a Barrel Split Tee, which was fabricated through with 2nos of equal standard 3'' Tee 160 SCH with flange and cap on top and bottom sides. This procedure was done to cut the top and bottom shell of the 2'' line from the top side of the Barrel Split Tee Flange where the gate valve was installed to perform the
hot tapping
procedure. Then the line stopple plug was inserted through the gate valve installed to the flange connection till the Barrel Split Tee Cap closed the gap for the content of the line to travel. Following this isolation, the client repaired the cracked portion of the pipeline and installed the gate valve. The entire project was completed within the client-specified deadlines with no interruption to the supply.
Benefits Delivered
No interruption to production during the project execution
Project managed it from end to end for the client
Completely QHSE compliant
Successful completion of the project within the client deadlines.