Life at Wellube: Meet Jignesh Patel, Operations Manager
In this blog, we get to know more about Jignesh Patel who handles the role of Operations Manager in India.
How long have you been with Wellube? And how many years in the industry?
I have been working with Wellube since January 2017, it's been over 5 years now. I have over 22 years of experience in the oil & gas, mineral processing and power industries. I have been working hands-on in the Hot Tap and Line Stop Industry for the last 12 years.
Tell us about your career background and your key area of expertise?
At the beginning of my career, I was working in the operations department of a mineral processing company. Following this I moved to the pipeline maintenance sector, I have extensive hands-on experience performing online maintenance services for the oil and gas industry. My key area of expertise lies in executing hot tapping and line stopping services along with technical problem solving for clients.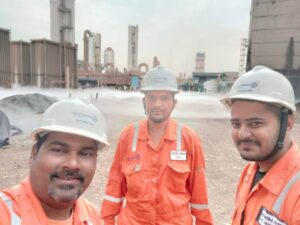 Jignesh at a job site with the team.
What do you enjoy the most about your job at Wellube?
When I joined Wellube in India we were at our early growing stages. I enjoy the work environment and our continuous drive to meet customer's timelines while ensuring the safety and quality of our services.
I also like my team and how we are constantly learning and improving ourselves while working with each other.
How has Wellube evolved from the time you joined to now?
From the time I joined till now, Wellube has undergone a tremendous transformation. From handling a few contracts, we have now become a preferred solution provider for the oil and gas, petrochemical and utility sectors in India. We have become a trusted and reliable partner for our clients.
How would you describe a typical day for you at Wellube?
My day starts in the workshop with our toolbox talks which are followed by planning the jobs that need to be carried out for the day with our engineers/technicians. Following that, I respond to my emails and interact with customers to discuss solutions for their requirements. In the office, I also support our sales and engineering team with technical inputs for enquiries. A part of my day is also spent managing the manufacture of fittings for our projects and ensuring that they are completed on time.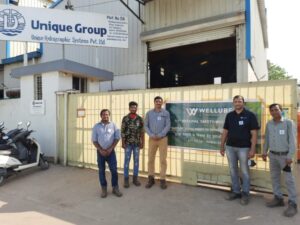 Jignesh along with colleagues during the National Safety Week event at our office.
Any key highlights to date of working with the company?
One of the key highlights of my career at Wellube is my growth in the company. I joined as a Hot Tap Engineer, then moved up the ladder to become the Hot Tap Lead and now I am handling the role of Operations Manager.
What do you think makes Wellube different than its competitors?
The skill and experience of our workforce are two factors which set us apart in the industry. Additionally, the safety and quality standards we maintain at our workshop and site locations gives us an edge over our competitors.
What does your work/life balance look like?
After work, I enjoy listening to music and watching cricket.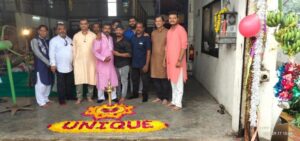 Jignesh along with colleagues during a recent celebration at the office.