Getting to know Emil and his sales experience with Wellube
In this blog, we get to know more about  Emil Sebastian who is working with Wellube as a Key Account Manager in the UAE.
How long have you been with Wellube? And how many years in the industry?
In 2011, I started my career in the UAE with Unique Group as a Purchase Engineer for the Diving & Life Support division. In 2013, I was given the option to make a transition to the Sales department at Wellube and that has been one of my best decisions. I started within the office supporting the team, then started visiting clients to gain insights about the industry and their requirements. Early on, I was fortunate to take up business development activities in Egypt and Kenya and was successful in winning contracts for our services there. My expertise gradually grew with time and then I was given the responsibility of managing the Abu Dhabi region as the Sales Manager in 2016. Over these 5 years, I have been able to develop the business in the emirate significantly by winning contracts with ADNOC group of companies and EPC contractors in the region.
More recently, I have taken up the position of Key Account Manager handling the accounts and pursuing strategic account plans to maximize the opportunities for the business.
What are your career background and the key area of expertise?
My educational background is that I am a Mechanical Engineer with a Master's degree in Energy. My technical background and expertise in the commercial side of the business help me offer solutions that are commercially viable and technically best suited for the client with safety in mind. I always have the customer on top of my mind and that has helped me give excellent solutions, this is one trait that has stayed with me since my procurement days.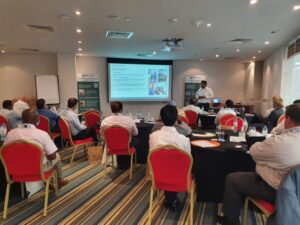 Emil presenting to clients during Wellube's forum on operational excellence
What do you enjoy the most about your job at Wellube?
The industry we are in and the service we provide are specialised, so every client requirement is unique and requires a customised approach. I have been constantly learning and upskilling over the years so my role has never felt monotonous here. The team I work with also has a very positive mindset and we work together to come up with new ideas for client challenges. So, over the years I have lost count of the time I have been working here and just enjoy coming to work every day.
How has Wellube evolved from the time you joined until now?
Wellube is a company that is strongly rooted in its values and over the years it has expanded to new service lines and geographies. It has also seen several strategic developments, which have helped shape the company to become the brand it is today. There have also been several upgrades to the infrastructure, equipment and processes which is driving operational excellence. However, one thing that has stayed constant from the beginning is the bonding between the employees which feels like a close-knit family even today.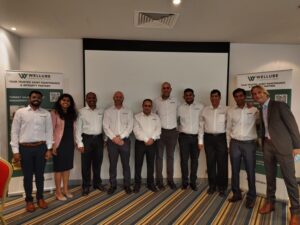 Emil and other colleagues pose after a technical event 
How would you describe a typical day for you at Wellube?
My day starts by going through emails and responding to them on a priority basis. Simultaneously, I direct my team to log in new enquires and send out quotes. A lot of phone conversations with clients and internal teams happen to ensure customers are always informed. I also take part in the tendering process and am involved in the compiling of the necessary documents and submitting them. Another aspect of my day is, following up on the quotes and bids submitted with regular client meetings and also nurturing new leads for business development.
Any key highlights to date of working with the company?
We have had the opportunity to work on several high-profile risky jobs from time to time. One of the highlights, was when I had met the client and took up a high-pressure online leak sealing job. Initially, we started with the technicalities and then later on as we progressed towards the size of the clamp – we realized that it was one of the biggest installed in the region. This project involved not just one service line from Wellube but was interdisciplinary considering the size of the job. It was a commendable team success and the client also praised the quality and workmanship displayed. This successful job instilled confidence in Wellube in the mind of the client and landed us a multi-year contract which we all are proud of even today.
Another highlight was winning a contract from a national oil company after months of strategising, groundwork and technical discussions. The job involved extensive risk and was a learning curve for all of us in the team. We had received appreciation for each job completed as it was carried out safely and within minimal time.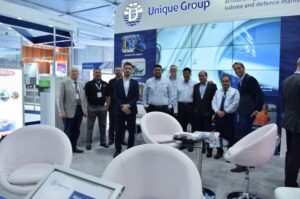 Emil and the team during an exhibition
What do you think makes Wellube different than its competitors?
Wellube is a homegrown brand in the U.A.E. with an excellent track record for all our product lines on par and beyond our competitors around the world. Wellube has always been dynamic and has accommodated client requirements and standards without compromising on safety. We have been at the forefront in the region and have built a reputation over the years that each employee cherishes and values. As mentioned earlier, the people at Wellube make it different from any other company – the camaraderie, trust and dedication make it truly unique.
What does your work/life balance look like?
I have ample time with my family and friends after work, I do occasionally have to meet clients on a Friday (if unavoidable) and I balance it with my very supportive family. I make it a point to relax and unwind during the weekends, to have a stress-free start to the week. As a family, we enjoy long drives and spend time at parks and beaches in the UAE. Wellube also organizes cricket matches during winter and every Saturday it is a ritual to play the favourite sport. I also enjoy cycling and cover quite a distance in the evenings enjoying the breeze.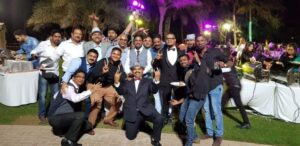 Emil along with colleagues during the annual company get together
What do you consider as one of the biggest engineering marvels in the world and why?
Technology is traversing at the fastest pace we have seen and will evolve beyond our imagination soon. The complexities in engineering have always fascinated me but the simplicity that engineering has to offer is what I am fond of. I would consider the invention of the "Wheel" as the biggest engineering marvel of all time. It is so simple to understand the principle that even an infant experiences it first hand with their toys. We have seen many inventions evolving from the wheel and by looking around us we can witness it in different forms. The wheel has helped us move and has kept the world moving.