Customised Pipeline Clamp Avoids Operational Disruption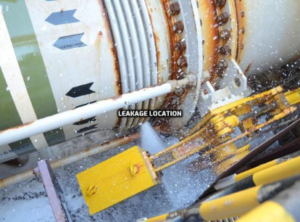 | | |
| --- | --- |
| Client | Major Oil & Gas client |
| Country | UAE |
| Date/ Year | 2019 |
| Service Details | Our on-line leak sealing service features a custom-designed pipeline repair clamp that contains the leak section, following which a suitable sealant is injected into the clamp to stop the leak. The process is successful on steam, water, hydrocarbons and a wide variety of chemical systems – at pressures from vacuum to 8500 psi and temperatures from minus 320 Deg F to 1800 deg F., It's a turnkey solution that means high plant uptime and reliable results for you. To know more, get in touch with us enquiries@wellube.com |
Summary of the Project
Wellube successfully completed
online sealing
of 68" expansion bellow seawater leak for an oil & gas facility in Abu Dhabi.

Client Requirement
The client observed heavy leakage on a 68" cooling water header line on the expansion below. Since the 68" line provides cooling water to two different trains in the facility, a system shut down was not possible. Since the pipeline was leaking, traditional composite repairs were not possible and standard leak repair clamps could not be used due to space restrictions around the pipeline and the location of the leak point. The only alternative, other than shutting down both the trains, was to provide a customised leak repair clamp.
Challenges Faced
There were space limitations due to existing obstructions with valve actuator and tie-in rods fitted on the expansion bellow, due to which standard engineered repair clamps could not be utilized. A solution had to be envisaged and implemented by accommodating the contour of the expansion bellow.
Unique Solution Delivered
After several site observations followed by a feasibility study, Wellube team along with the client engineering team designed a mechanical repair clamp that fits on the conical-shaped expansion below. The inside of the clamp was provided with a 10mm thick rubber packing to match the conical contour of the bellow. Additional structural supports were provided at the site to ensure proper seal compression against the bellow body for effective sealing. Once in situ, the clamp was perfectly installed, and a safe and successful repair was implemented. Owing to the complex geometry of expansion below, the only solution other than the client taking a shutdown was to provide a customized temporary clamp to minimize the leak. Further deterioration caused by the leak could have resulted in the separation of the bellow joint which could have resulted in a possible shut down of the plant and production loss. As Wellube could perform the online leak sealing of the 68" expansion below online, the client avoided operational downtime and production losses.
Benefits Delivered
Designed and implemented a customized online repair solution

No disruption to production, the repair was performed on the live pipeline

Compliant to design and safety specifications.