20" Hot Tap Operation Performed on a Spiral Wound Chilled Water Pipe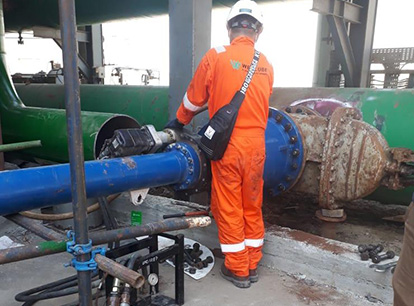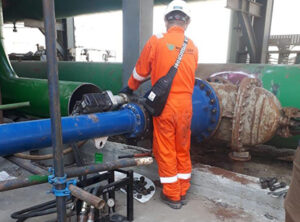 | | |
| --- | --- |
| Client | Petroleum refinery |
| Country | Egypt |
| Service details | Wellube's hot tapping and line stopping service is a cost-effective way of enabling repairs, maintenance, modifications, or reconfiguration work on existing piping systems – on either a planned or emergency basis. Our hot tap operation prevents unwanted shutdowns and keeps critical piping and pipeline systems online during tie-ins, relocations, repairs, retrofits, and routine maintenance. To know more, get in touch with us at enquiries@wellube.com |
Project Summary
Wellube completed a 20" hot tap operation with a customised couple reinforcement solution on a 38" chilled water line for a petroleum refinery in Egypt.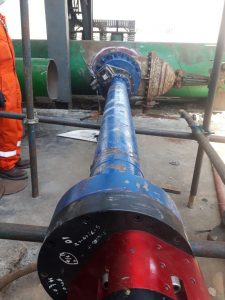 20" hot tapping in progress on the 38" chilled water line
Client Requirement For Hot Tap Operation
The client wanted to create a new tie in connection of the same size from the existing chilled water pipeline without shutting down the pipeline, Wellube was contacted to perform the operation to facilitate the operation
Challenges Faced
No shutdown or depressurization of the pipelines was allowed
Shipping the client requirements from UAE and ensuring our workforce were all available at the site without any delays caused due to the pandemic.
Solution Engineered By Performing Hot Tap Operation
After evaluating the client's requirement, we performed 20" hot tap operation on the 38" spiral wound chilled water pipeline. Owing to the unique design of the pipe, we also directed the client in welding a coupon reinforcement to avoid the coupon from falling off (or spring out after the final cut) during the hot tap.
 Wellube engineers monitoring the hot tap equipment
As the design we had suggested for coupon reinforcement was simple, the client was able to get it fabricated and welded according to the schedule. This was then welded after the fit-up and welding of the hot tap fitting. Standard coupon reinforcement would have been more complicated and required additional logistics. In this case, we just needed a smaller size pipe to weld as a coupon reinforcement after design confirmation which was sufficient to prevent the spring out on a spiral wound pipe.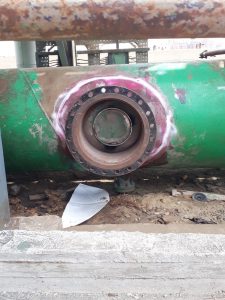 <?p>
The customised coupon reinforcement solution welded on the pipeline
The client appreciated the Wellube team's professionalism and efforts in completing the full scope of work as scheduled before their planned shutdown.
Benefits Delivered
No interruption to water supply during the project execution
Completely HSEQ compliant
Successful completion of the project within the client deadlines.