The Women of Wellube: Meet Priya Adsul, Sales Coordinator
This International Women's Day in line with the theme of this year 'Break The Bias', we will be recognising and featuring the women at Wellube who are breaking stereotypes and paving their path in this industry.
This week, get to know Priya Adsul. She handles the role of Sales Coordinator at our India office. Her responsibilities include sales invoicing, maintaining enquiry files, finance documentation and updating our ERP systems. She maintains close communication with our clients and supports them throughout the sales process.
We had a chat with her to get to know more about her experience, interests and her advice to young women.
How many years have you been in the industry?
14 years
How many years have you been with Unique Group?
1.5 years
What made you choose this industry?
I chose this industry because it offers me immense potential to grow professionally. The industry uses state-of-the-art technology to get the best results which have also enabled me to learn new technology. I am also new to this industry, so I am enjoying the exposure of working as a Sales Coordinator I get here.
What do you enjoy most about your sales process management job?
I like the sense of fulfilment I get at the end of the month when I meet my deadlines and complete all my assigned sales processes and invoicing.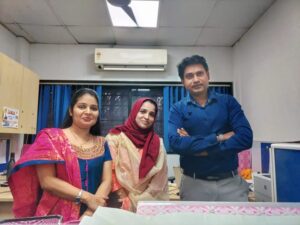 Priya with her colleagues
Tell us about a key achievement in your professional career?
In a previous role, I lead a sales team of 3 employees for 1.5 years. During this time, my team and I worked tirelessly to ensure that our office operated the sales process smoothly which also reflected on our company's overall productivity.
What are your other interests outside of your job?
Cooking and family get-togethers.
If you had to share some words of encouragement for women entering this industry today, what would they be?
Surround yourself with people and things that inspire you. Don't be afraid. Be focused, determined, hopeful and empowered.